10% discount on Course tickets for SEETEST 2022 participants!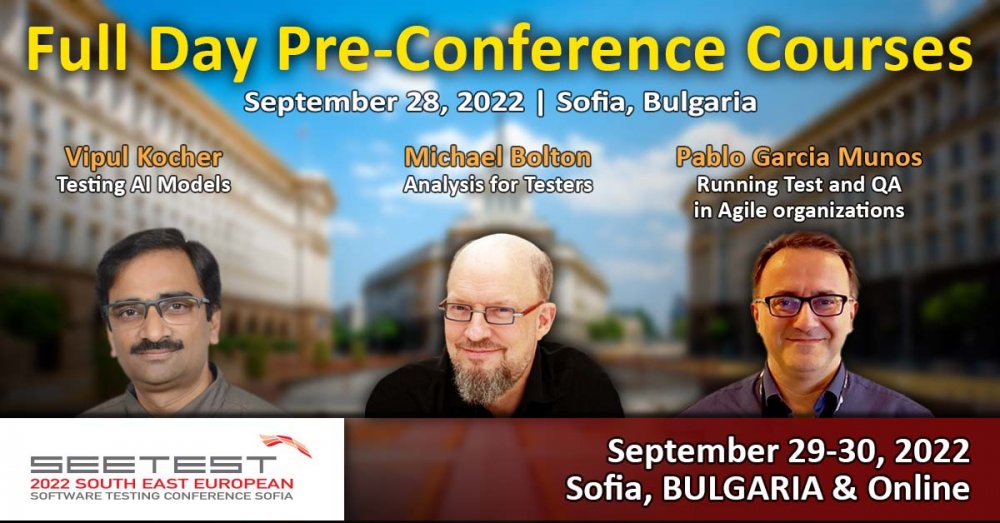 If you're one to dive deep into learning about certain topics, and want to benefit from the experience of long-time professionals, our three pre-conference full-day courses are just the thing for you! To top that off, all SEETEST 2022 participants get a 10% discount on course tickets.

Vipul Kocher, Michael Bolton and Pablo Garcia Munos will be giving their courses on September 28, a day before SEETEST 2022.

Vipul Kocher will be talking about 'Testing AI Models' - how testing AI models work, different ways to do it, test-design techniques, tools and much more. Inspired strongly by Vipul's own prolific experience of testing AI/ML models and also building a product AIEnsured (www.testAIng.com) for testing of AI models, this course will also base itself on AiU, world's first AI testing certification, now a part of the ISTQB CTAI.

Michael Bolton will be giving the course 'Analysis for Testers' where we can learn how to go about analyzing an issue and moving from the realm of confusion to clarity, what strategies and mindset do we utilize to do that and how do we develop skills that make us a more powerful tester.

Pablo Garcia Munos and his course 'Running Test and QA in Agile Organizations' will be giving us a chance to dive deeper into organizations needs when it comes to maintaining quality in an Agile context - what documents have to be in place, how to make different teams align for the same quality level, how to get good, structured and active testers in the teams and how to develop test and quality over time, and much more.
Back to News