First four tutorials at SEETEST 2023 announced!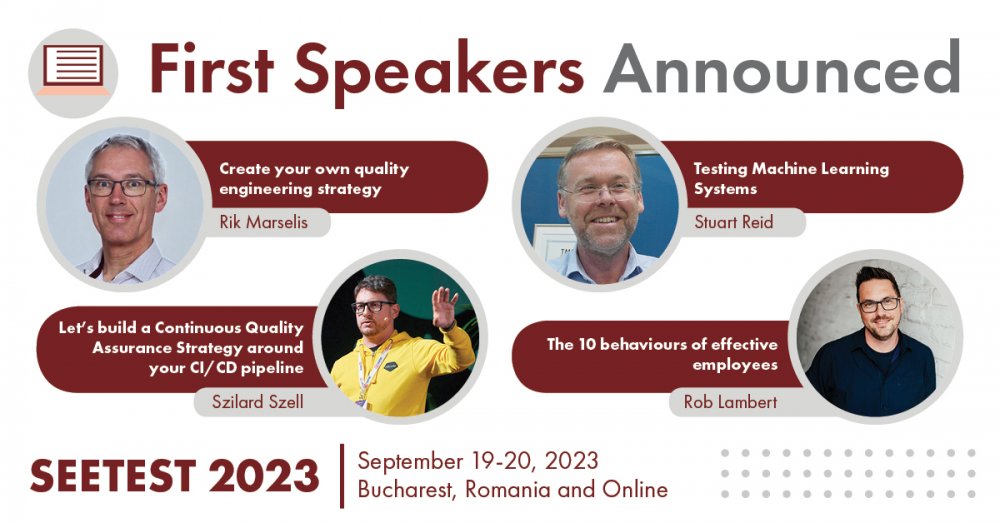 •
Testing Machine Learning Systems by Dr. Stuart Reid
, where he will provide testers with an insight into the fascinating world of ML development and testing. The tutorial is largely hands-on, but is backed up by the latest developments in in ML testing and reflects the current progress in this area of the ISO working group on testing AI systems. It leads attendees through the experience of both building various ML models, such as neural networks and decision trees, and then testing these models using specialist techniques.
•
Create your own quality engineering strategy by Rik Marselis
- this tutorial will start with analysis of quality risks, dive into quality measures and finally participants will assign quality measures with the right intensity to their fundamental DevOps activities and test varieties.
•
Let's build a Continuous Quality Assurance Strategy around your CI/CD pipeline by Szilard Szell
- A topic that proved to be very popular at last year's edition of SEETEST in Sofia, Bulgaria and will now be presented for our participants in Bucharest. The interactive tutorial will help teams to learn how QA is extended to the left and to the right in DevOps, how to design QA pipeline with simple cards and what other testing related activities to be agreed on, to have a full test strategy.
•
The 10 behaviours of effective employees by Rob Lambert
- Rob will guide attendees through an interactive tutorial about behaviours - 10 of them to be precise. In it, participants will be exploring why behaviours matter more than almost anything else in business, what behaviours actually are (this may surprise some people) and then work through each of the 10 behaviours, as well as cover why Rob selected these 10. The tutorial will then expand on why it is important to focus on behaviours, why mindset (although a buzzword) is hard to see and how attendees can start developing each of the 10 behaviours.
Stay tuned, as we will be announcing more tutorials in the following weeks! And don't miss them – get your SEETEST 2023 tickets
now
Back to News