The SEETEST 2019 Experience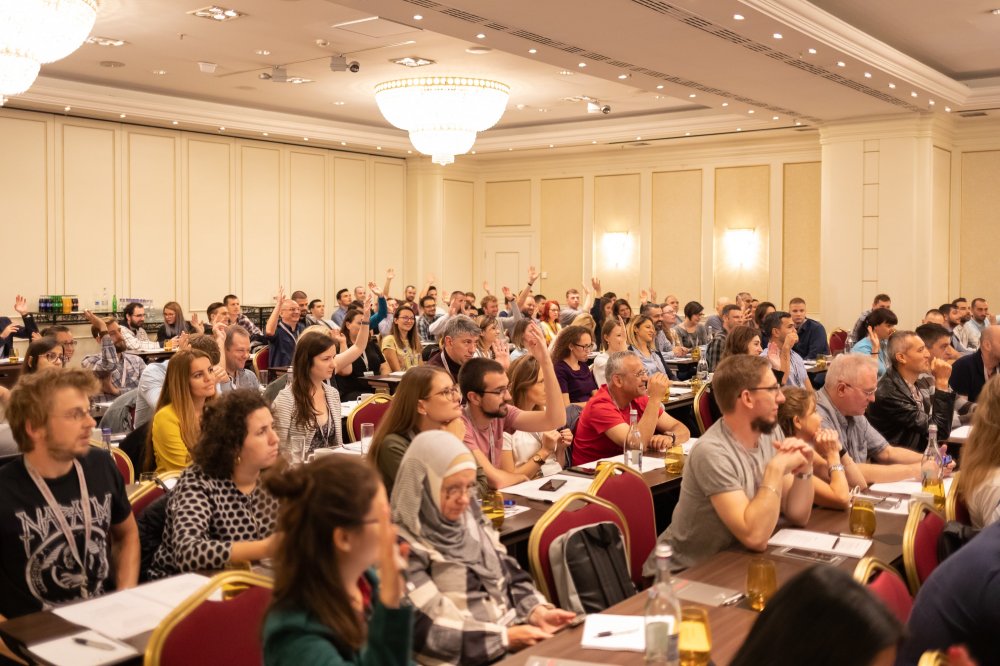 The 8th successful edition of
SEETEST
took place this year in Bucharest, Romania. It welcomed a growing number of participants this year, namely more than 400, from 26 different countries! They had the opportunity to enjoy two days of inspiring talks and ideas.
And in a great setting – this year host to SEETEST 2019 was the spectacular JW Marriott Grand Hotel Bucharest. Placed right next to the famous Parliament and close to the historical center of the city, the hotel provided attendees with the maximum Romanian hospitality experience and an opportunity to feel the pulse of the capital.
The conference's long time organizers –
SEETB
and
Quality House
made no compromise with the organisation once again. Preceding the two day official event, there was a day of full-day courses on Wednesday, the 25th. Some of the event's tutorial speakers also added a day of teaching new skills and ideas on topics such as test automation, DevOps, test modelling, test coverage and test design.
Once again the feedback on the chosen topics was overwhelmingly positive. Attendees were happy to learn that the conference has now incorporated a fourth track of lectures into it, thus giving them an even greater choice of talks. On the first day
Paul Gerrard
gave the tutorial 'Problem Solving for Testers', while
Alon Linetzki
discussed the 'Transition from Traditional into Agile Tester', and
Vipul Kocher
gave the 'Basics of AI and AI in Testing'.
Olivier Denoo
managed to convince that 'Agile is Human', indeed, while
Jan Jaap Cannegieter
discussed 'Exploratory Testing', and
Andy Redwood
shared his insights on 'Testing Psychology'. Meanwhile,
Pablo Garcia Munos
showed everyone how to 'Reach Your Goals Faster with a Metrics Dashboard', while
Michael Pilaeten
told us more about 'Practical Test Design Techniques'.
To take a break from all the learning and have some quality fun, the first day of SEETEST 2019 ended with the annual Social Event. It was held at another great venue - Athenee Palace Hilton Bucharest, a hotel full of history and opened way back in 1914! Attendees had the opportunity to listen to the great Romanian band Time Out who created the best party atmosphere and had everyone on their feet and dancing all night.
The second day of the conference went on with 22 session speakers and presentations on topics ranging from test automation and agile testing to test design and management, etc. Best Paper and Best Presentation were awarded once again at SEETEST this year.
Gerie Owen
and
Peter Varhol
from Technology Strategy Research, Cubic, USA won the Best Paper award for the second time in a row with 'Making Disaster Routine: Testing Application Resiliency in Production Using Active Monitoring and Chaos Engineering', while
Gjore Zaharchev
won Best Presentation for 'Cheat sheets are finally legal'.
SEETEST 2019's team and organizers would like to thank everyone involved in this event for all the help and support during this year, which was crucial to them. They also give a big thank you to all their sponsors –
Visteon Corporation
,
Milestone Systems
,
Cognizant Softvision
and
Euro-Testing Software Solutions
, as well as all their supporting organizations and media partners. Hope to see you again next year, this time in Sofia, Bulgaria!
Back to News