SEETEST 2019 is looking for dedicated volunteers!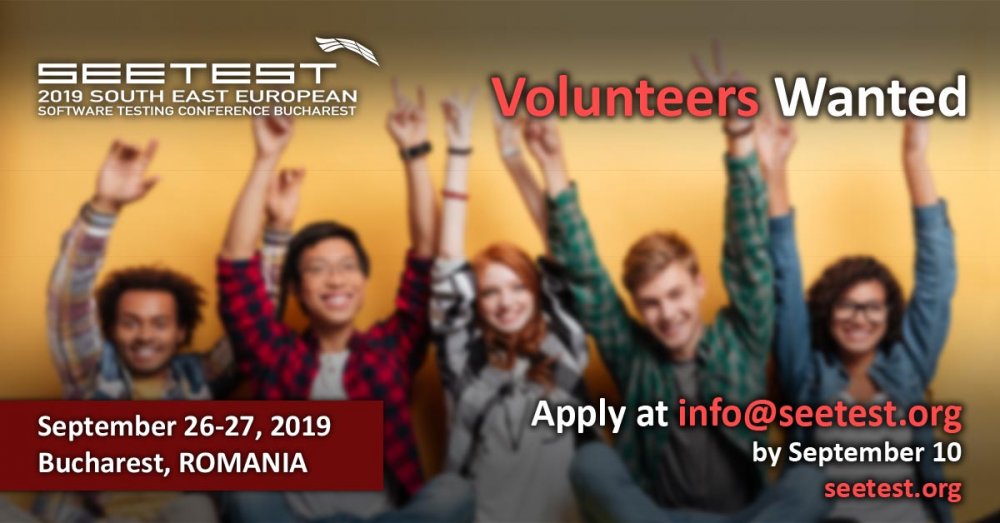 Are you a young software testing professional willing to get a closer look into the community or get the opportunity to network with some of the best names in the industry? Or maybe you're a student in the IT sphere and are looking for more experience? If that's the case, you're a perfect match to be part of our Volunteers team for SEETEST 2019, that will take place in Bucharest, Romania on September 26-27!
Volunteers are very important to ensuring a relaxed atmosphere and smooth organization to both our speakers and attendees. They will mainly have three tasks:
- Room support/assistance – Being on the spot in a designated talk room and helping out
- Conference material packing and distribution – this will happen before the conference (on September 24)
- Help at the registration desk
It's easy and will bring you a host of benefits:
- Having the opportunity to watch at least one great session/tutorial
- Full-conference materials set
- Access to our exclusive Social event
- Certificate of attendance for volunteering at SEETEST 2019
- Included food and refreshments throughout the day
- The opportunity to get yourself out there and network with great professionals from the field!
Sounds interesting? Then write us at
[email protected]
for more information and to apply!
DISCLAIMER
: We accept volunteers from all backgrounds, but consider that we will not be able to cover travel expenses to applicants that might need to travel to Bucharest for the conference.
Back to News