Take a look at our list of morning tutorials for SEETEST 2022!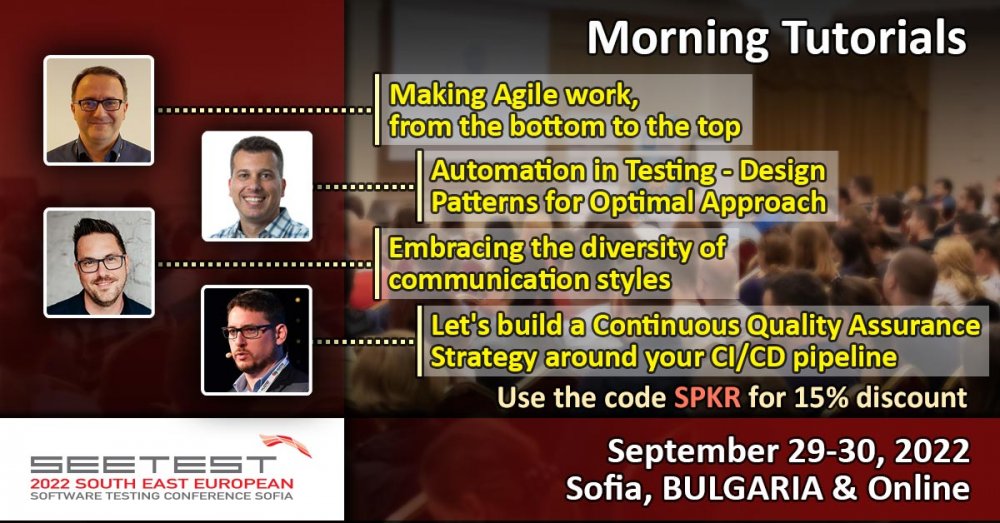 Take a look at all our Tutorial lectures on the first day of SEETEST 2022! Eight half-day tutorials divided in four tracks in the morning and afternoon will be enriching our knowledge.

The morning will start with:
Pablo Garcia Munos who will be speaking about what it takes for Agile development to really work in his half-day tutorial 'Making Agile work, from the bottom to the top'.

Predrag Skokovic and his tutorial 'Automation in Testing - Design Patterns for Optimal Approach' where attendees will not only hear about different approaches to test automation, but will also exercise a lot on how to design different test automation architectures with the intent to apply the optimal test automation approach.

Rob Lambert with 'Embracing the diversity of communication styles', where he will be covering how to use our natural styles to become effective at work, work with others who's approach to communication seems so alien to us and embrace our differences to build high performing, diverse, and respectful teams.

Szilard Szell will help teams to learn how QA is extended to the left and to the right in DevOps, how to design QA pipeline with simple cards and what other testing related activities to be agreed on, to have a full test strategy in his 'Let's build a Continuous Quality Assurance Strategy around your CI/CD pipeline' tutorial.

Book your ticket now in order not to miss them – don't forget to use the discount SPKR at checkout to get a 15% discount off the price of Hybrid & Virtual tickets! See you there!
Back to News